April 01, 2021
Elenjical Solutions focuses on boosting skills of the nation
Financial services technology firm Elenjical Solutions focuses on developing home grown talent – investing over 40% of profits into sponsoring South African students and developing them for long term success.
Global finance has its powerhouses in cities such as London, Frankfurt, New York and Hong Kong – and that's often where the IT talent flows to. But there is a leading financial services technology firm here in South Africa that is dedicating itself to fostering home grown talent, one providing a nurturing learning environment that encourages them to stay long term.
"The vast majority of our employees are from South Africa, and proudly so," says Tinu Elenjical, founder and CEO of Elenjical Solutions (ES). "We are committed to developing a local skillset that more than meets the exacting standards of global financial requirements. It takes a lot of effort, but our team is as good as anyone in London, Paris or anywhere else."
Offering talent a helping hand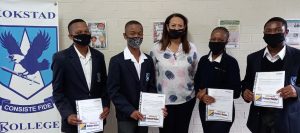 With over 40% of profits reinvested in training and development every year ES searches out the best home-grown talent at South Africa's leading universities. These are the brightest students studying mathematics, engineering, technology or finance and risk management. And where students are struggling financially, ES offers a series of scholarships to undergraduate and masters students. "We look for smart people, of course, but we also want people with potential and the right attitude," says Tinu. "Our scholarships look to unite potential with opportunity, with the hope that they will join the company once they graduate."
The company's support starts before university, with ES offering bursaries to a growing number of lucky school students every year. "For the bursaries we don't always look for the 'best' pupils," says Tinu. "Here we look for someone who would do amazingly well if they had the financial support to get them going. I come from humble beginnings and it gives me great pleasure to be able to support my local community in this small way. It's a privilege to be able to contribute and make a lasting difference to a person's life."
ES's 50 employees come from all over Africa and are a diverse mixture of people. "Despite our varied backgrounds we are a very inclusive team that shows mutual respect for each other," says Tinu. "Regardless of origin, we collaborate for a common purpose. The ability to put yourself in the shoes of others is a key skill for being a good consultant, seeing problems from the client's perspective."
On-the-job training
Even when graduates do start work at ES, it is at least three months before they get to work for a client. First comes an intensive in-house training program. This consists of four components. The first one introduces new hires to the world of capital markets, what banks and insurance companies do, as well as the products and services offered. This is followed by learning how to code in computer languages, such as XML and Python. Next comes the core element – learning about the Murex platform used by financial service providers. Here ES really excels – so much so that the company is certified by Murex to not only conduct the training on its system internally but also act as a 'train the trainer' for external clients. Those new hires that have survived this far enter the last phase of training – learning about the business realities of being a consultant and providing customer service.
"With assignments and formal exams this training is very intensive for the graduates," admits Tinu. "And some people fall out of the program. And even when they are trained that is still only the start of the story. It takes years for consultants to get to a point where they are considered experts in their field."
And that is the ES difference – it's all about the long term. With a solid internal culture and interesting and varied work, staff retention is excellent. The company invests heavily in its people and employees and clients alike appreciate this. It's a virtuous circle.
"Our success is built on a platform of smart people being well treated and given interesting work for appreciative clients. Creating this pool of high performers takes time to build but when it's created it is enduring," concludes Tinu. "Our goal is to show the world that real talent – when supported and encouraged – is available in South Africa."